Registration is now open!
Please click here (.ppt version) and/or here (PDF version) to download conference information flyer, and share among your colleagues and workplace!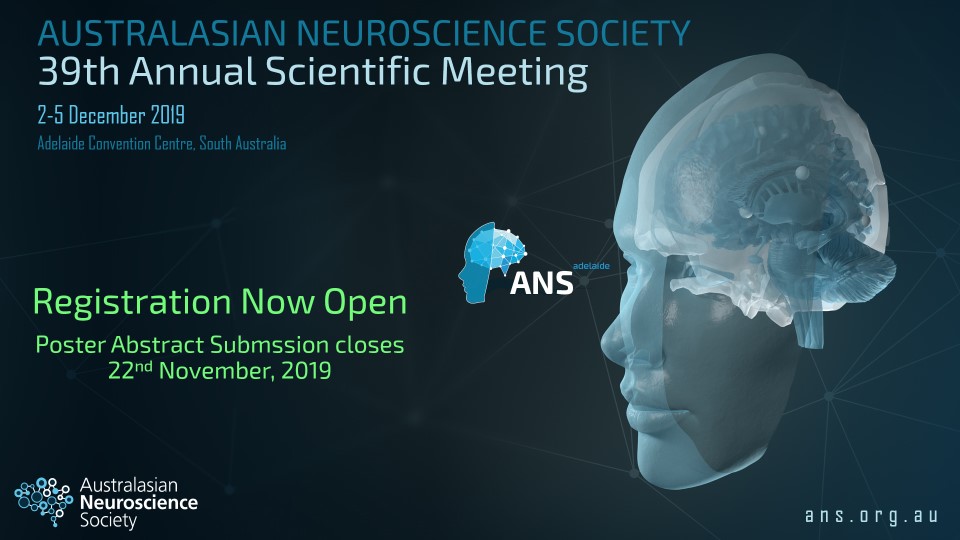 Registration Prices
All prices are inclusive of GST, and stated in Australian dollars.
Early Bird Rate
Ends 16 August 2019


Standard Rate


ANS Member Registration


Full Member
$650.00
$780.00
Retired Member
$455.00
$546.00
Student Full**
$355.00
$455.00
Imaging Workshop Only*
$100.00
$100.00
Student One Day**
$140.00
$140.00

Non-Member Registration

Full Non-Member
$950.00
$950.00
Retired
$636.00
$636.00
Student**
$575.00
$575.00

One Day Registration*

$440.00
$440.00
Neuroscience Teaching Workshop ONLY***
$0
$0
Social Functions
Welcome Reception
Included in full registration tickets
Welcome Reception Guest
$50.00
$50.00
Conference Dinner
$150.00
$150.00
Conference Dinner Student
$100.00
$100.00
Registration fees include the following:
Entry to meeting sessions
Entry to trade exhibition and poster area
Morning/afternoon teas and lunches during the conference
Imaging Workshop Ticket
Welcome Reception Ticket
Student & EMCR Networking Event Ticket
Conference Program Book
*One day, imaging workshop only and Ne registrations are not entitled to the Welcome Reception and Conference Dinner tickets; however tickets can be purchased at the guest rate. The imaging workshop only and student one day registration types are only valid for ANS members.
**Registration at the student rate must be accompanied by uploading of a PDF document providing evidence of student status. For example, this could be a PDF copy of an email from the student's supervisor or a PDF scan of an academic transcript.
***The Neuroscience Teaching Workshop ONLY registration is for those attendees who ONLY want to go to the workshop. If you want to attend the conference AND go to the workshop you can select the workshop during the conference registration process.

Japan Neuroscience Society members should send an email to This email address is being protected from spambots. You need JavaScript enabled to view it. to register for the meeting at ANS member rates.
Click here to begin your registration
All online registrations will be acknowledged via email with confirmation of your requirements according to your registration, together with a tax invoice.
Kindly check that the email This email address is being protected from spambots. You need JavaScript enabled to view it. did not end up in your spam or junk inbox. Registrations will only be considered confirmed once payment is received.
Please ensure you proceed all the way to the end of your online registration process to avoid having an incomplete registration.
Conference Dinner
Tickets to the Conference Dinner on Wednesday, 4 December 2019 are available to purchase at a cost of $150 per person, or $100 for Students.
Accommodation
Accommodation for the meeting can be booked through the online registration system. Rates are per room per night.
Full prepayment for all accommodation bookings is required by Monday, 28 October 2019. Bookings not fully prepaid by this date risk being cancelled.
All changes and cancellations must be provided in writing to the ANS Conference Secretariat by Monday, 28 October 2019. Guests may be charged for all or part of the booking if cancellation is received after this date.
If you have any issues completing your accommodation request please contact the ANS Conference Secretariat.
Method of Payment
Register online and pay by credit card. Credit cards accepted are Visa, Mastercard and AMEX.
If you are unable to pay by credit card, EFT transfers or cheque payment will be acceptable also. Full payment details will be stated on your tax invoice.
All cheques, international bank transfers or money orders must be made payable to "The Association Specialists - ANS" and be drawn from a major Australian bank or personal or business cheque account.
Cancellation Policy
All cancellations or alterations must be put in writing to ANS Conference Secretariat.
If cancellation is received in writing:
Before 30 August 2019 – full refund of all monies paid.
Before 28 October 2019 – 50% of registration monies paid will be refunded.
After 28 October 2019 – No refund will be given.
Please note that any accommodation booking cancelled after Monday, 28 October is subject to 100% cancellation fees charged directly by the hotel.
Disclaimer of Liability
The Local Organising Committee, including the ANS Conference Secretariat, will not accept liability for damages of any nature sustained by participants or their accompanying persons or loss of or damage to their personal property as a result of the meeting or related events.