Upcoming Conferences and Courses
Please contact This email address is being protected from spambots. You need JavaScript enabled to view it. if you would like to add an event to this page. Events listed on this page are also advertised in our newsletter.
IBRO-APRC
IBRO Research Fellowships 2019
These fellowships aim to foster neuroscience research in less scientifically funded countries by providing support to excellent scientists from diverse geographic and scientific areas that wish to broaden the scope of their neuroscience training by working in first-class laboratories.
Deadline: 17 June 2018
IBRO-APRC School on Neural plasticity in health and disease
The aim of the school is to introduce to the young investigators the fundamental concepts of neural plasticity and its underlying mechanisms, the role of environmental enrichment or deficit in modulating the plasticity of the brain and also make them aware that impaired neuroplasticity is the basis of many neurological and developmental disorders.
Deadline: 17 June 2018
22nd International Symposium on Regulatory Peptides
RegPep 2018 is an IBRO-supported event that provides a unique venue for students, scientists and scholars interested in the physiology of peptide actions in brain and periphery. It will take place in Acapulco, Mexico, from 22-25 September 2018. Housing fellowships for students and continuing medical education (CME) credits through the UNAM Medical School are available.
Abstract deadline: 30 June 2018
IBRO-APRC Travel and Short Stay Grants 2018
The IBRO-APRC Travel and Short Stay program support combined trips of applicants currently working in the Asia-Pacific countries to attend neuroscience meetings in other Asia-Pacific countries and visit a laboratory in the country where the meeting is held.
Deadline: 15 July 2018
Brain Function CoE @ FENS - Registrations close 22 June 2018!
STA - STEM leaders forge path to stronger Australian science and technology
For more information, click here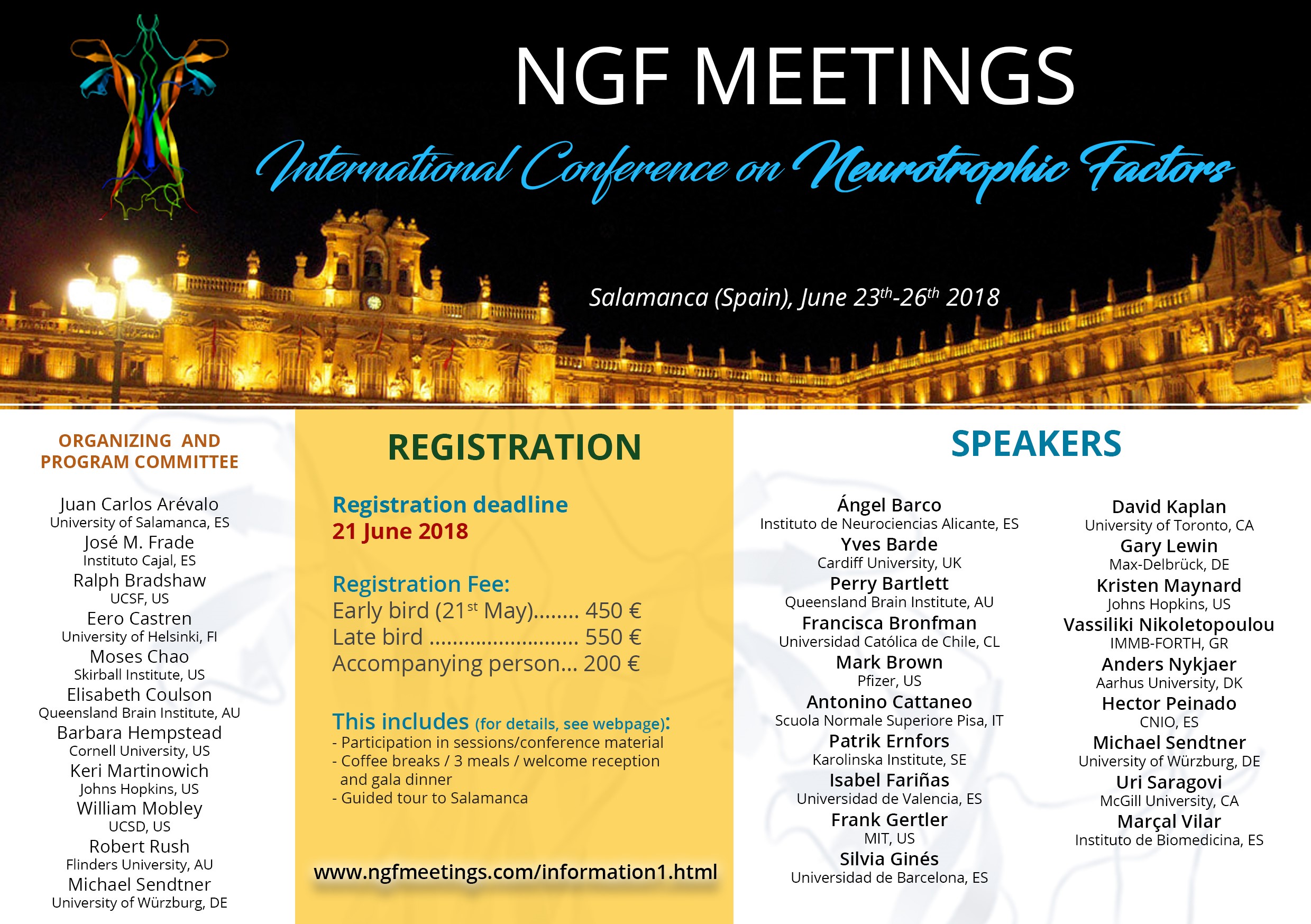 Neurons, Synapses & Circuits Symposium, Manly on August 16-18, 2018
Understanding how neuronal activity and synaptic function produce and are shaped by behaviour is a fundamental goal of neuroscience. Similarly, improved treatments for mental and neurological disorders will rely on gaining a better appreciation for how the brain coordinates activity across synaptic, circuit and system scales. This short conference brings together academic, industry and clinical leaders to discuss the latest advances in these areas. Speaker will include:

• David Bredt Johnson and Johnson
• Rick Huganir Johns Hopkins University
• Julie Kauer Brown University
• Anatol Kreitzer University of California, San Francisco
• Diane Lipscombe Brown University
• Rob Malenka Stanford University
• Stephen Maren Texas A&M
• Chris McBain NIH
• Katherine Roche NIH
• Bernardo Sabatini Harvard University
• Morgan Sheng Genentech
• Shengtao Hou Southern University of Science and Technology
• Andres Villu Maricq University of Utah
• Liping Wang Shenzhen Institutes of Advanced Technology

Registration costs $200 and includes a buffet dinner on Friday August 17.

Abstract submissions are encouraged prior to the deadline of July 15. A small number of abstracts will be selected for oral presentation (15 minutes each).
More details: https://qbi.uq.edu.au/event/6723/neurons-synapses-circuits-function-disease
FIRST INTERNATIONAL MOTOR IMPAIRMENT CONFERENCE
Crowne Plaza Hotel Coogee, Sydney Australia
26-28 November 2018
This is the first international meeting to cover this critical topic. Motor Impairment cuts across many diseases and conditions including stroke, multiple sclerosis, cerebral palsy, spinal injury and healthy ageing.
We have a fantastic group of leading international researchers who will tell us about their work and how it relates to Motor Impairment. There will be time for oral and poster presentations (read more about submitting your abstract). The 2.5 day meeting will be held in Coogee, a stunning beachside location in Sydney.
The goal is to better understand the pathophysiology of Motor Impairment, to implement interventions, and to drive enhanced clinical practice. Much is still unknown about fundamental mechanisms of Motor Impairment, and about its prevention and treatment.
**IMPORTANT DATES**
Call for Abstracts closes: 31 May 2018
Early Bird registration deadline: Midnight 30 June 2018 (AEST)
For more details visit the First International Motor Impairment Conference website.
FENS satellite meeting: 6 July 2018
Date: Friday 6th July 2018
Venue: NH Collection Hotel Berlin Friedrichstrasse
Title: Receptive fields: analysis, models and applications
Organisers: Professor Michael Ibbotson (Australia) and Professor Ulf Eysel (Germany)
URL: https://www.eventbrite.com.au/e/fens-brain-function-coe-2018-satellite-meeting-receptive-fields-analysis-models-and-applications-tickets-40336171575
A copy of the Fens flyer can be found here.
Australasian Society for Social and Affective Neuroscience Conference
The next Australasian Society for Social and Affective Neuroscience conference will take place in Brisbane (Australia) on the 20th and 21st of June 2018. On the 19th of June we will also offer two FREE half day new workshops. Abstract submission for the conference is now open! Head to this link and submit your abstract: http://www.as4san.com/abstract-submission/.
Deadline is the 1st of April!
Mason Foundation ME CFS Biobank Survey
The Mason Foundation is a charitable trust that supports medical and scientific research on myalgic encephalomyelitis / chronic fatigue syndrome (ME/CFS). The Mason Foundation has engaged the Nous Group (Nous) to investigate the viability of establishing an ME/CFS biobank in Australia. The purpose of this project is to assist the Mason Foundation to make a decision on whether it should fund the establishment of a ME/CFS biobank. If the Mason Foundation does decide to fund a biobank, it would continue to contribute some funds towards its existing ME/CFS research grants program.
Nous is conducting a short survey of researchers to inform the assessment of potential demand for an ME/CFS biobank in Australia.
As a member of the Australian Neuroscience Society, we would be grateful if you could respond to this short survey via this link.
Please also feel free to forward this survey to other researchers you know that are working in ME/CFS or related fields.
The survey takes 5-10 minutes to complete. Please complete at your earliest convenience. Responses are confidential and Nous will not attribute any responses to individuals.
If you have any questions about the project, please contact Holly Norrie (Nous Group) at This email address is being protected from spambots. You need JavaScript enabled to view it. or on (02) 8281 8054.
2nd World Congress on Neurology and Brain Disorders
This conference will take place from 8-9, November, 2018 with a theme: "Speaking Technological Advances in Neurology and Current Research in Handling Brain Disorders for Supporting Patients, Families and Society".
International Conference on Neurorehabilitation and It's Associated Disorders
this conference will take place 6-7, June, 2018 with a theme: "An Intuition to Development Strategies of New Neurorehabilitation Technologies, Research and Clinical Evaluation".
11th International Conference on Frontotemporal Dementias (ICFTD2018)
11 – 14 November 2018 at the International Convention Centre Sydney, Australia.
Research on Frontotemporal Dementia and related conditions undertaken in Australia is internationally recognised. In the past 15 years, Australian researchers have made significant contributions to the understanding of clinical, pathological and genetic aspects of dementias making Australia the ideal destination to host the ICFTD for the first time in the Southern hemisphere.
Additional information is also available on our conference website
Australian Functional Genomics - Register your interest!
Click here for more information.
68th Lindau Nobel Laureates Meeting, Dedicated to Physiology or Medicine, 24 June – 29 June 2018
The Australian Academy of Science together with the Science and Industry Endowment Fund are pleased to welcome applications for early career researchers to attend the Lindau Nobel Laureate Meeting in Germany for 2018. This year's meeting is Physiology or Medicine. Successful applicants will receive a travel scholarship to attend the meeting and undertake a group study tour following the Lindau meeting. Doctoral students in medicine or PhD candidates, as well as researchers within 5 years postdoctoral are encouraged to apply.
We ask that you now invite all eligible researchers to submit their applications to their relevant research office. The Academy will accept up to TWO applications from any one university or research institute in the field of physiology or medicine. It is at each institutes discretion of how the two applications can be selected internally. The deadline for the institute to submit applications is 5pm AEDT on Tuesday 2nd October 2017. The selection panel at the Academy will then assess all the applications and shortlist 10 to be submitted to the Lindau Council for the final round of assessment.
A complete application consists of the following:
Completed application form (click here to access the form)
Curriculum Vitae (maximum 2 pages)
Recent publication list, included conference presentations (maximum 2 pages)
Letter of recommendation
These fellowships are highly competitive, however incredibly valuable. For more information please contact visit the official website: https://www.science.org.au/opportunities/travel/nobel-laureates-meetings/lindau-nobel-laureates-meetings
4th European Stroke Organisation Conference (ESOC 2018), Gothenburg, Sweden, 16-18 May 2018.
The 4th European Stroke Organisation Conference​ (ESOC 2018) will facilitate learning, discussion, and exchange among European and international stroke specialists. Guided by the motto "The Voice of Stroke in Europe," at the Conference you will learn about the latest clinical trials and developments in all areas of stroke management, treatment and prevention.
Not only will this leading conference enhance your knowledge and practice, it will provide you with a unique opportunity to network with a wide range of professionals in the field of stroke.
Scientific session proposals are now open. Suggestions for a session can be sent until 20 June 2017 by completing the online form on the official ESOC website.
​Join us in Gothenburg on 16-18 May 2018.